Waldorf school
From AnthroWiki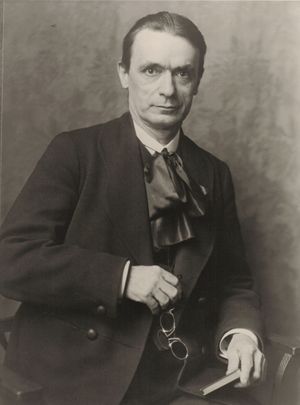 Waldorf schools are independent schools where Waldorf teachers teach according to the Waldorf education founded by Rudolf Steiner. Waldorf education is one of the best-known practical applications of anthroposophy, which was also founded by Rudolf Steiner and from whose mother soil it emerged. Many Waldorf schools have a Waldorf kindergarten attached to them. They are also known as Rudolf Steiner Schools, Free Waldorf schools, Steiner schools, École Waldorf in French and Vrijeschools in Dutch. There are currently 1251 Rudolf Steiner schools in 70 countries worldwide and 1915 Waldorf kindergartens in more than 59 countries (as of 2021)[1].
History
The Waldorf School emerged in the social turmoil after World War I from the attempts of Rudolf Steiner and his like-minded comrades to create a spiritual life independent of the state and to return science, art and religion to their assumed primordial unity. It ultimately developed out of general education courses for workers at the Waldorf-Astoria cigarette factory in Stuttgart, who wanted to gain a better understanding of their work processes and to develop Steiner's approaches to industrial science into a school for their children. For them, the first school was founded in 1919 by the owner of the factory, Emil Molt, and ceremoniously opened on 7 September. Men and women from a wide variety of professional backgrounds taught there: an officer, a factory owner, the railway engineer Alexander Strakosch and the self-taught Ernst Uehli. Steiner became the first headmaster. Herbert Hahn was initially the most important teacher for the humanities subjects and later moved more and more into Steiner's position. Before World War II a handful of Waldorf schools were founded in Germany and a few more abroad; all those on territory that had at some point been conquered by Hitler were forced to close. After the war, Waldorf people quickly regrouped and many schools were founded. After the rapid growth of the movement in the aftermath of World War II, the foundings were stopped in 1973; they now came about only on the initiative of parents because it was feared that the young school movement might otherwise be crushed by the overload of its own rapid expansion. Since about the beginning of the 1990s, the movement, which had previously enjoyed only popularity, has come under much attack, among others by the Catholic Church. In the meantime, its spread in Germany has stopped, there is a shortage of teachers, while Waldorf schools abroad are multiplying more rapidly than ever before.
The Nazi era in Germany
During the era of National Socialism, the German Waldorf Schools, like other non-governmental schools, ceased teaching after 1937 at the latest, either through self-dissolution or coercion.[2]
The eight Waldorf schools had been a particular thorn in the side of the National Socialists from the beginning. Unlike other anthroposophical institutions, which were able to continue operating unnoticed by the authorities for a long time, the schools had a great external impact. In order to save the schools, Elisabeth Klein, the Dresden headmistress who held a key position in the negotiations with the regime, made contact with leading National Socialists. She sought to close ranks, while the school in Berlin explicitly distanced itself from these collaboration attempts in 1936 and pursued its own closure. Among the people Klein contacted was Rudolf Hess, who was said to have sympathies for anthroposophy. Klein also assumed that Hess saw his task as "protecting all schools of thought in Germany that can still have a constructive effect on spiritual life."[3]
On 1 November 1935 the Anthroposophical Society in Germany was banned by decree of Reinhard Heydrich. The justification clearly referred to antroposophical pedagogy and read: "According to the historical development of the Anthroposophical Society, it has an international outlook and still maintains close relations with foreign Freemasons, Jews and pacifists. The teaching methods based on the pedagogy of the founder Steiner and still applied in the existing anthroposophical schools today pursue an education that is individualistic and oriented towards the individual, which has nothing in common with the National Socialist educational principles.... i.V. gez. Heydrich."[4]
In accordance with an order by Rudolf Hess, Waldorf schools were no longer allowed to enrol pupils until 1940. Two schools were even banned (Stuttgart in 1938 and Dresden in 1941). The rest had to close for financial reasons. Of the eight anthroposophical curative education homes, three were massively threatened, two of which were closed.
Waldorf education
Waldorf education is based on Rudolf Steiner's remarks on the general study of man and the art of education, as well as on numerous educational courses he gave to teachers on this subject.
"What is said about Waldorf school education must be listened to with different ears than what one usually hears about education, even reform education. For Waldorf education gives no answer at all to the questions which people now want answered and which are asked and seemingly answered in the other educational systems! What are these questions aimed at? Usually to quite a lot of reason, and reason is immensely abundant in the present. Reason, intellect and cleverness are tremendously widespread articles in the present. Questions like these: What is to be done with the child? How should one bring this or that into the child? - are answered in a terribly reasonable way. And it all boils down to this: What do you like in a child and how can you get it to be the way you want it? But that has no significance for the deeper development of humanity! Waldorf education does not answer such questions at all.
If we first want to characterise figuratively how Waldorf education speaks, we have to say that it speaks quite differently from the way we usually speak about education. Waldorf education is not a pedagogical system at all, but an art to awaken what is there in the human being. Basically, Waldorf education does not want to educate, but to awaken. For today it is a question of waking up. First the teachers must be awakened, then the teachers must again awaken the children and young people." (Lit.:GA 217, p. 36)
Method and didactics
The aim is to provide a more comprehensive and natural education and, above all, to prevent the absorption of too much purely intellectual knowledge in early childhood. In order to achieve this goal, measures have been taken which are designed for greater humanity and better opportunities for spiritual development: a class community and its teacher remain together as long as possible, no competition for grades, "free Christian" religious education, eurythmy. But it has also been decided that much other artistic activity is part of every pupil's education. The curriculum of the Waldorf School, especially in the first years of schooling, which Steiner still experienced, deals precisely with the change of teeth, sexual maturity and other stages of human development, and therefore also repeats some things up to three times during the school years. The Waldorf movement also aims to have a general socially healing effect and, among other things, to overcome national boundaries as far as possible.
Steiner's Study of Man
Steiner has given advice for all ages of the child. In the first period up to about 7 years of age, the child learns primarily through imitation and example. From the change of teeth to sexual maturity, it learns through imitation and authority.[6]
The Temperaments
For Waldorf teachers Steiner also considers knowledge of the theory of temperaments in the version he developed to be indispensable.[7] Like its Greek predecessor, it divides people into four basic types - sanguine, phlegmatic, melancholic and choleric - with mixed forms of these types usually occurring. Waldorf teachers should find out which of the four characters predominates in each pupil. They should also find out which trait the pupil has only inherited from his parents and which is his very own.
The Curriculum
The class teacher period
A class teacher keeps his class from the first to the eighth school year, i.e. through the whole Lower and Middle School. He teaches all the epoch subjects for about three weeks every day in the first two, continuous lessons until the big break, the so-called main lesson. In order for the class teacher to grow even closer with his class, he is also expected to give several other subjects that he has studied, if possible. From the first class onwards there are two foreign languages - in Germany, of course, one of them is English, the other usually Russian, sometimes also French -, handicrafts, music, eurythmy, religion (of the local predominant churches and sometimes also of the Christian Community), gymnastics. In the lower classes, the pupils often follow the teacher's blackboard design and also design their epoch booklet with their own contributions.
The rhythmic element
The main lesson begins with a vitalising rhythmic element that activates and harmonises physiological rhythms such as breathing and heartbeat and thus has both an awakening and health-promoting effect (salutogenesis)[8]. Poems are spoken and songs sung, to which rhythmic clapping or stamping is done. Only then does the actual teaching follow, whereby the content covered on the previous day is usually briefly repeated beforehand.
The Morning Saying
Every class begins the day with Rudolf Steiner's so-called Morning Saying, which has remained unchanged since 1919, and which is intended to get them in the right mood for solemnly absorbing knowledge that is important for life. It reads:
The sun's dear light,
It brightens my day;
The soul's spiritual power,
it gives strength to the limbs;
In the sunlight's radiance
I adore, O God,
the power of man, which thou
in my soul
so graciously planted in my soul,
that I may be industrious
and eager to learn.
from you comes light and strength,
to thee flow love and thanksgiving.

Der Sonne liebes Licht,
es hellet mir den Tag;
der Seele Geistesmacht,
sie gibt den Gliedern Kraft;
im Sonnen-Lichtes-Glanz
verehre ich, o Gott,
die Menschenkraft, die du
in meine Seele mir
so gütig hast gepflanzt,
dass ich kann arbeitsam
und lernbegierig sein.
von dir stammt Licht und Kraft,
zu dir ström' Lieb' und Dank.
The school report sayings
From the second grade onwards, each pupil is allowed once a week on the day of the week on which he was born, standing next to the others whose turn it is, to say in front of the class a saying which the class teacher has written under his school report and which he may either have thought up himself or taken from someone else - often from eminent poets.
Literature
Bußmann, Hildegard und Jochen: Unser Kind geht auf die Waldorfschule. Erfahrungen und Ansichten. Rowohlt, 1990. ISBN 3-499-18736-1
Carlgren, Frans: Erziehung zur Freiheit. Verlag Freies Geistesleben, 2005. ISBN 3-7725-1619-X
Kiersch, Johannes: Die Waldorfpädagogik. Eine Einführung in die Pädagogik Rudolf Steiners. Reihe Praxis Anthroposophie 47, Verlag Freies Geistesleben, 1997. ISBN 3-7725-1247-X
Koolmann, Steffen / Nörling, Joseph E.: Zukunftsgestaltung Waldorfschule. Ergebnisse einer empirischen Untersuchung zu Kultur, Management und Entwicklung, Springer-VS Wiesbaden, 2015, , ISBN 978-3-658-08983-2, Inhaltsangabe und Statement Bund der freien Waldorfschulen
Stefan Leber (Hg.): Waldorfschule heute. Einführung in die Lebensformen einer Pädagogik. Mit Beiträgen von Michaela Glöckler, Christoph Gögelein, Wenzel Götte, Freya Jaffke, Ernst-Michael Kranich, Helmut von Kügelgen, Stefan Leber, Manfred Leist, Christoph Lindenberg, Walter Riethmüller, Christian Rittelmeyer und Hartwig Schiller. Stuttgart: Verlag Freies Geistesleben 2001. ISBN 3-7725-1221-6
Richter, Tobias: Pädagogischer Auftrag und Unterrichtsziele. Vom Lehrplan der Waldorfschule. Stuttgart: Verlag Freies Geistesleben 2002. ISBN 3-7725-0269-5
Schad, Wolfgang: Erziehung ist Kunst. Pädagogik aus Anthroposophie. Stuttgart: Verlag Freies Geistesleben 1994. (Vergriffen, Neuauflage steht noch nicht fest.) ISBN: 3-7725-1204-6
Christentum - Anthroposophie - Waldorfschule. Waldorfpädagogik im Umfeld konfessioneller Kritik, Vlg. Freies Geistesleben, Stuttgart 1987, ISBN 3-7725-0295-4
Heinz Brodbeck (Hrsg.), Robert Thomas (Hrsg.): Steinerschulen heute: Ideen und Praxis der Waldorfpädagogik, Zbinden Verlag 2019, ISBN 978-3859894549
Rüdiger Blankertz: 'Das Erfolgsmodell' Waldorfschule und 'das Problem' Rudolf Steiner, Edition Nadelöhr 2019, ISBN 978-3952508015
Valentin Wember: Was will Waldorf wirklich? Die unbekannte Erziehungskunst Rudolf Steiners. Ein Vortrag für Eltern und Lehrer. Stratosverlag 2019, ISBN 978-3943731286
Steiner, Rudolf: Praxis der Waldorfpädagogik (10 Vorträge, Themen aus dem Gesamtwerk Band 21). Stuttgart: Verlag Freies Geistesleben 2004. ISBN 3-7725-0091-9
Steiner, Rudolf: Geistige Wirkenskräfte im Zusammenleben von alter und junger Generation. Pädagogischer Jugendkurs., GA 217 (1988), ISBN 3-7274-2170-3 English: rsarchive.org German: pdf pdf(2) html mobi epub archive.org
Steiner, Rudolf: Ritualtexte für die Feiern des freien christlichen Religionsunterrichtes und das Spruchgut für Lehrer und Schüler der Waldorfschule, GA 269 (1997), ISBN 3-7274-2690-X English: rsarchive.org German: pdf pdf(2) html mobi epub archive.org
Steiner, Rudolf, Allgemeine Menschenkunde als Grundlage der Pädagogik, GA 293 (1992), ISBN 3-7274-2930-5 English: rsarchive.org German: pdf pdf(2) html mobi epub archive.org
Steiner, Rudolf, Erziehungskunst. Methodisch-Didaktisches, GA 294 (1990), ISBN 3-7274-2940-2 English: rsarchive.org German: pdf pdf(2) html mobi epub archive.org
Steiner, Rudolf, Erziehungskunst. Seminarbesprechungen und Lehrplanvorträge, GA 295 (1984), ISBN 3-7274-2950-X English: rsarchive.org German: pdf pdf(2) html mobi epub archive.org
Steiner, Rudolf, Die Erziehungsfrage als soziale Frage, GA 296 (1991), ISBN 3-7274-2960-7 English: rsarchive.org German: pdf pdf(2) html mobi epub archive.org
Steiner, Rudolf, Idee und Praxis der Waldorfschule, GA 297 (1998), ISBN 3-7274-2970-4 English: rsarchive.org German: pdf pdf(2) html mobi epub archive.org
Steiner, Rudolf, Erziehung zum Leben. Selbsterziehung und pädagogische Praxis., GA 297a (1998), ISBN 3-7274-2975-5 English: rsarchive.org German: pdf pdf(2) html mobi epub archive.org
Steiner, Rudolf, Rudolf Steiner in der Waldorfschule, GA 298 (1980), ISBN 3-7274-2980-1 English: rsarchive.org German: pdf pdf(2) html mobi epub archive.org
Steiner, Rudolf, Geisteswissenschaftliche Sprachbetrachtungen, GA 299 (1981), ISBN 3-7274-2990-9 English: rsarchive.org German: pdf pdf(2) html mobi epub archive.org
Steiner, Rudolf, Konferenzen mit den Lehrern der Freien Waldorfschule 1919 bis 1924, GA 300 a-c (1995), ISBN 3-7274-3000-1 English: rsarchive.org German: pdf pdf(2) html mobi epub archive.org
Steiner, Rudolf, Die Erneuerung der pädagogisch-didaktischen Kunst durch Geisteswissenschaft, GA 301 (1991), ISBN 3-7274-3010-9 English: rsarchive.org German: pdf pdf(2) html mobi epub archive.org
Steiner, Rudolf, Menschenerkenntnis und Unterrichtsgestaltung, GA 302 (1986), ISBN 3-7274-3020-6 English: rsarchive.org German: pdf pdf(2) html mobi epub archive.org
Steiner, Rudolf, Erziehung und Unterricht aus Menschenerkenntnis, GA 302a (1993), ISBN 3-7274-3025-7 English: rsarchive.org German: pdf pdf(2) html mobi epub archive.org
Steiner, Rudolf, Die gesunde Entwickelung des Menschenwesens. Eine Einführung in die anthroposophische Pädagogik und Didaktik., GA 303 (1978), ISBN 3-7274-3031-1 English: rsarchive.org German: pdf pdf(2) html mobi epub archive.org
Steiner, Rudolf, Erziehungs- und Unterrichtsmethoden auf anthroposophischer Grundlage, GA 304 (1979), ISBN 3-7274-3040-0 English: rsarchive.org German: pdf pdf(2) html mobi epub archive.org
Steiner, Rudolf, Anthroposophische Menschenkunde und Pädagogik, GA 304a (1979), ISBN 3-7274-3045-1 English: rsarchive.org German: pdf pdf(2) html mobi epub archive.org
Steiner, Rudolf, Die geistig-seelischen Grundkräfte der Erziehungskunst. Spirituelle Werte in Erziehung und sozialem Leben., GA 305 (1991), ISBN 3-7274-3050-8 English: rsarchive.org German: pdf pdf(2) html mobi epub archive.org
Steiner, Rudolf, Die pädagogische Praxis vom Gesichtspunkte geisteswissenschaftlicher Menschenerkenntnis. Die Erziehung des Kindes und jüngeren Menschen., GA 306 (1989), ISBN 3-7274-3060-5 English: rsarchive.org German: pdf pdf(2) html mobi epub archive.org
Steiner, Rudolf, Gegenwärtiges Geistesleben und Erziehung, GA 307 (1986), ISBN 3-7274-3070-2 English: rsarchive.org German: pdf pdf(2) html mobi epub archive.org
Steiner, Rudolf, Die Methodik des Lehrens und die Lebensbedingungen des Erziehens, GA 308 (1986), ISBN 3-7274-3080-X English: rsarchive.org German: pdf pdf(2) html mobi epub archive.org
Steiner, Rudolf, Anthroposophische Pädagogik und ihre Voraussetzungen, GA 309 (1981), ISBN 3-7274-3090-7 English: rsarchive.org German: pdf pdf(2) html mobi epub archive.org
Steiner, Rudolf, Der pädagogische Wert der Menschenerkenntnis und der Kulturwert der Pädagogik, GA 310 (1989), ISBN 3-7274-3100-8 English: rsarchive.org German: pdf pdf(2) html mobi epub archive.org
Steiner, Rudolf, Die Kunst des Erziehens aus dem Erfassen der Menschenwesenheit, GA 311 (1989), ISBN 3-7274-3110-5 English: rsarchive.org German: pdf pdf(2) html mobi epub archive.org
Steiner, Rudolf / Mosmann, Johannes: Was ist eine freie Schule?, mit einem Vorwort und Kommentar von Johannes Mosmann, Rudolf Steiner im Wortlaut über die freie Waldorfschule, den diesbezüglichen Begriff der "Selbstverwaltung" und die Idee eines freien Geisteslebens, Institut für soziale Dreigliederung, 2015, ISBN 3945523117, PDF
References