Emil Molt
From AnthroWiki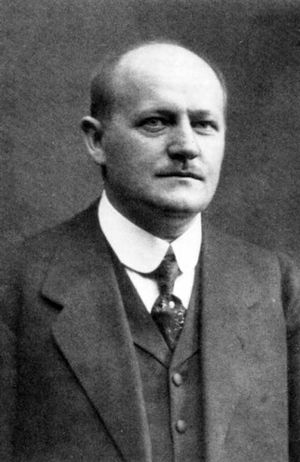 Emil Molt (* 14 April 1876 in Schwäbisch Gmünd; † 16 June 1936 in Stuttgart) was a German entrepreneur, social reformer, anthroposophist and founder of the first Waldorf school.
Life and work
Molt's father died early. School had bored him, but a commercial apprenticeship fascinated the half-orphan and attracted him. After years of travelling and military service, he went to Patras to work for a large international trading house. In 1899 he returned to Stuttgart where he married Berta Heldmaier. Molt had been friends with Hermann Hesse from his youth and had gained access to philosophy through him.
In 1906 Molt founded the Waldorf-Astoria Cigarette Factory, Hamburg-Stuttgart. The company rose rapidly and employed about 1,000 people in 1919. Sensibility and aesthetically sophisticated advertising soon helped the company to international sales opportunities and enabled their boss to travel to their tobacco growing regions in the Orient. After 1925, the company got into increasing difficulties with its outdated production facilities, and in 1929 Molt had to give up the majority of shares to a competitor - the House of Neuerburg - which promptly liquidated the factory.
In 1906 he and his wife became members of the Theosophical Society, which, however, was only of interest to them through the circle around Rudolf Steiner (Carl Unger and Adolf Arenson). Molt was involved in the establishment of the first branch house in Stuttgart and experienced a happy, spiritually stimulating and economically successful time before the World War I.
Waldorf School
Active in the "Johannesbauverein" from 1918, he, his wife and Herbert Hahn gave general education courses to workers at the cigarette factory in 1919. After all, like the workers, Molt also wished for a school for their children that would offer the poorer people what is normally only given to the wealthy. It is thanks to him and Rudolf Steiner that the school authorities were able to enforce such great freedom in questions of teaching content and curriculum, which - among other things - so strongly distinguishes Waldorf schools from other schools to this day. He also ensured that the political influence of National Socialism was kept away from the Waldorf school until it was banned in 1938. He did not live to see the closure of the school. He died of a heart disease on 16 June 1936.
Social Threefolding
Molt implemented fraternity in the economic sphere by acquiring two recreation homes for his workers. His attempts to intervene more strongly in social life through a Württemberg Industrial Trust Bank and extended historical-political clarification work on the war guilt question, on the other hand, were less successful. He also promoted social threefolding in lectures.
Works
Emil Molt: Entwurf meiner Lebensbeschreibung, Stuttgart 1972, Freies Geistesleben, ISBN 3-7725-0620-8
Literatur
Weblinks