Clairvoyance
From AnthroWiki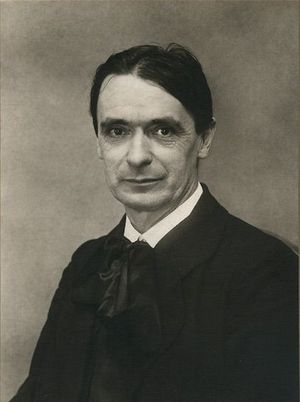 Clairvoyance generally refers to the ability of non-sensory perception in the broadest sense. People who possess this ability are called clairvoyants - or seers for short. Clairvoyance in the sense meant by Rudolf Steiner is directed towards the perception of the higher supersensible worlds. Modern clairvoyance is based on the trained ability of imagination, which, unlike the old dream-like clairvoyance, is a fully conscious, purely soul-spiritual perception. This includes in particular reading the Akasha Chronicle, the spiritual world memory, in which, however, one does not directly see the outer sensual events, but the spiritual archetypes from which they have emerged.
Imagination differs from vision, in which imaginatively perceived spiritual phenomena in the astral world are unconsciously transferred to the sensual daytime consciousness and directly sensualised. The heightened sensory-free imaginative consciousness, which is brighter than normal everyday consciousness, also excludes any confusion with mere phantasy, arbitrary imaginings or even hallucinations. The clairvoyant ability is all the more highly and purely developed, the higher realms of the world can thereby be perceived in a purely supersensory way. Imagination also differs from extrasensory perception, as it is also studied in parapsychology. This can refer, as was the case with Swedenborg, for example, to simultaneous but distant events, but also to past or future physical events, in which latter case one speaks of precognition.
The evolution of human consciousness
A deeper understanding of the phenomenon of clairvoyance, which today seems disreputable to many people with some justification, can only be gained by considering that human consciousness was not always as we know it today. Just as the human body only developed into its present form in the course of millions of years of evolution, human consciousness has also changed decisively in the course of human development. While palaeontology tries to reconstruct the development of the modern human body from more or less sparse fossil finds, we are in a better position with regard to consciousness because older forms of consciousness are still accessible to our direct experience to a certain extent, even if only in a considerably modified form. In addition to modern waking consciousness, which is divided by the modern subject-object split into object consciousness and I-consciousness, we also know dream consciousness and dreamless sleep consciousness. The latter, however, is so dull that we only experience it indirectly through the absence of any conscious experience. Here we have the apparent paradox of an "unconscious consciousness" or a subconscious. That this nevertheless has a significant influence on our lives is taught to us not least by depth psychology. An even more difficult form of consciousness to access is the trance consciousness, as it can occasionally appear in medially inclined persons. The ancient clairvoyance that mankind has long had at its disposal is rooted in these old forms of consciousness. What they have in common is that they lack clear I-consciousness.
Man has little influence on the future development of his body. The situation today is quite different with regard to consciousness. The human being can, if he wants to, actively develop it out of his full I-consciousness through appropriate spiritual training. This is the basis for the ability of imagination already mentioned above, which makes possible a prudent new clairvoyance connected with the clear insight of the full I-consciousness.
Epistemological basis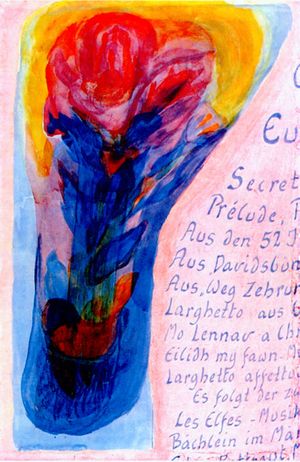 For Steiner, the starting point of modern self-aware clairvoyance is the observation of thinking, i.e. the intellectual view of one's own thinking activity, through which the I becomes aware of itself, independent of its physical organisation, as a purely spiritual being. Steiner thus ties in directly with the philosophy of German idealism, namely Johann Gottlieb Fichte and Friedrich Wilhelm Joseph Schelling. On 13 January 1881, at 12 midnight, he wrote to his childhood friend Josef Köck in this regard:
Another important foundation of a different kind for Steiner was Johann Wolfgang von Goethe's "Anschauende Urteilskraft" (visual power of judgement), which was directed towards the sensual-supersensory perception of nature and which had led him to the experience of the primordial plant. It is the ideal archetype, the conceptual and at the same time vivid archetype from which all plant species can be imagined to have emerged through modification.
Goethe starts with sensual perception and ends with intellectual perception, which reveals itself with, from and through sensual perception. He devoted his full attention to the immediate sensory impressions; his thinking never strayed far from immediate perception, just as his perceiving was never thoughtless. He writes about this in his essay «Bedeutende Förderung durch ein einziges geistreiches Wort» (Considerable advancement through a single witty word):
Goethe knew only one source of knowledge, the world of experience, in which the objective world of ideas is included. The primal plant is not accessible to discursive, logically deductive thinking, but only to direct, intuitive intellectual contemplation. Immanuel Kant had denied humans such a faculty. Goethe vigorously contradicted this:
The Austrian physicist and Nobel Prize winner Wolfgang Pauli (1900-1958) described this archetypal thinking very aptly in a letter of 7 January 1948 to the physicist Markus Fierz:
It is precisely this "bridge between sense perceptions and concepts" that Pauli speaks of that Steiner built in his fundamental philosophical works. The prerequisite for this is pure thinking that is no longer bound to the body.
Thinking and imagination
Clairvoyance is based on the ability to imagine, the "painting of inner pictures", through which reality reveals itself in archetypal images. Seeing is only one particularly prominent aspect of clairvoyance; clairvoyance can also clothe itself in other astral sensory qualities, so that one can also speak of clairaudience, clairsentience, etc., and especially even of clairvoyance of taste. Clairvoyance is to be sharply distinguished from hallucination, in which a sensual perception is aroused or feigned without a corresponding external stimulus being present. Visions that arise from residual remnants of ancient clairvoyance are also clearly different from contemporary forms of spiritual perception. Similar to dream images, the experience here is still very strongly bound to the body. In modern clairvoyance, this attachment to the body has largely been overcome. It can therefore freely direct itself towards the spiritual outside world.
For modern fully conscious clairvoyance it must be strictly observed that what is imaginatively "seen" is absolutely invisible, what is "heard" completely inaudible, since it is precisely not a sensual, but a purely supersensible perception actively and consciously produced by one's own spiritual activity, but completely determined by itself in terms of content. However, since in the earthly embodied human being the bodily activity and especially the sensory sphere still resonates quietly even today, it is nevertheless quite natural and appropriate to describe the imaginative experience in sensual terms:
The first perceptions one makes in the supersensible soul world consist of richly differentiated sympathies and antipathies connected with the beings one sees here.
Clairvoyance alone is not enough to interpret what is perceived extrasensory in the right sense. It very often happens that clairvoyant people interpret the results of their visions in an erroneous way. The true meaning of spiritual perceptions is only revealed to the initiate - regardless of whether they are directly their own perceptions or those that have been passed on by clairvoyant people. In the ancient Mysteries there was indeed a strict separation between initiates and clairvoyants, who were thus completely dependent on each other. Today, this separation can hardly be maintained.
In order to consciously develop clairvoyant abilities, the astral body must first be cleansed through catharsis of all desires and lust and suffering, which, like a dark cloud, obscure or distort the view of spiritual reality. Low clairvoyance can very easily lead to the perception of one's own untransformed desires, which are mistaken for an external soul or spiritual reality.
Clairvoyance can only awaken when the experiences of the astral body are reflected in the etheric body. Just as sensual perception requires the physical senses as a mirroring apparatus, so in clairvoyance the supersensible experiences must be reflected through the etheric body into consciousness. In both cases, the sensory qualities weaving in the astral world are the raw material of the soul from which the perceived images are painted. Through the outer sense perception, however, the sense qualities only appear in a strongly dampened form. Only to the clairvoyant consciousness do they appear in their full unclouded reality, depending on the clairvoyant's degree of spiritual development.
Thinking and non-thinking visionary clairvoyants
What man has thoughtlessly experienced through visions in earthly life is of little use to him in life after death. Then only what he could grasp on earth in clear thoughts from the spiritual has value - indifferently whether he has seen it himself or not:
Head, chest and abdominal clairvoyance
Rudolf Steiner basically distinguished between three types of clairvoyance, namely head, chest and abdominal clairvoyance, which are connected with the threefold structure of the human organism, whereby the chest or heart clairvoyance is usually activated at the same time as the head clairvoyance. The upper lotuses down to the heart chakra are activated. The head clairvoyance has a more mental-imaginative, but also emotional character, while the chest clairvoyance leads more to the development of the will. Moreover, head clairvoyance mainly provides results that are independent of the individual person and in this sense "objective", whereas gut clairvoyance is mainly connected with what is going on in the individual person himself and is very easily penetrated by subjective personal egoism. The so-called "intuitive" gut feeling is namely related to the visceroception belonging to the sense of life and thus clearly differs from what Rudolf Steiner calls fully conscious intuition.
Literature
Karl von Meyenn (Hrsg.): Wolfgang Pauli. Wissenschaftlicher Briefwechsel, Band III: 1940–1949. Springer. Berlin (1993) Brief #929, S. 496
H. Atmanspacher, H. Primas, E. Wertenschlag-Birkhäuser (Hrsg.), Der Pauli-Jung-Dialog, Springer Verlag, Berlin Heidelberg 1995
Goethes Werke, Vollständige Ausgabe in vierzig Teilen, Auf Grund der Hempelschen Ausgabe, Deutsches Verlagshaus Bong u. Co, Berlin Leipzig Wien Stuttgart, 38. Teil
Goethes Werke (WA). Hrsg. im Auftrage der Großherzogin Sophie von Sachsen. Weimar 1887-1919. Abteilung IV 8, Briefe
Immanuel Kant, Kritik der Urteilskraft, § 77
Flensburger Hefte Nr. 66: Hellsehen - Der Blick über die Schwelle, Flensburger Hefte Vlg., Flensburg 1999
Flensburger Hefte Nr. 107: Neues Hellsehen, Flensburger Hefte Vlg., Flensburg 2010
Rudolf Steiner: Ein Weg zur Selbsterkenntnis des Menschen, GA 16 (2004), ISBN 3-7274-0160-5; zusammen mit GA 17 in Tb 602, ISBN 978-3-7274-6021-0 English: rsarchive.org German: pdf pdf(2) html mobi epub archive.org
Rudolf Steiner: Die Schwelle der geistigen Welt, GA 17 (1987), ISBN 3-7274-0170-2 English: rsarchive.org German: pdf pdf(2) html mobi epub archive.org
Rudolf Steiner: Philosophie und Anthroposophie, GA 35 (1984), ISBN 3-7274-0350-0 English: rsarchive.org German: pdf pdf(2) html mobi epub archive.org
Rudolf Steiner: Briefe Band I: 1881 – 1890, GA 38 (1985), ISBN 3-7274-0380-2 English: rsarchive.org German: pdf pdf(2) html mobi epub archive.org
Rudolf Steiner: Spirituelle Seelenlehre und Weltbetrachtung, GA 52 (1986), 30. März 1904, Berlin English: rsarchive.org German: pdf pdf(2) html mobi epub archive.org
Rudolf Steiner: Die Erkenntnis der Seele und des Geistes, GA 56 (1985), ISBN 3-7274-0560-0 English: rsarchive.org German: pdf pdf(2) html mobi epub archive.org
Rudolf Steiner: Antworten der Geisteswissenschaft auf die großen Fragen des Daseins, GA 60 (1983), ISBN 3-7274-0600-3 English: rsarchive.org German: pdf pdf(2) html mobi epub archive.org
Rudolf Steiner: Das Lukas-Evangelium, GA 114 (2001) English: rsarchive.org German: pdf pdf(2) html mobi epub archive.org
Rudolf Steiner: Die tieferen Geheimnisse des Menschheitswerdens im Lichte der Evangelien, GA 117 (1986), ISBN 3-7274-1170-8 English: rsarchive.org German: pdf pdf(2) html mobi epub archive.org
Rudolf Steiner: Wie erwirbt man sich Verständnis für die geistige Welt?, GA 154 (1985), ISBN 3-7274-1540-1 English: rsarchive.org German: pdf pdf(2) html mobi epub archive.org
Rudolf Steiner: Wege der geistigen Erkenntnis und der Erneuerung künstlerischer Weltanschauung, GA 161 (1980) English: rsarchive.org German: pdf pdf(2) html mobi epub archive.org
Rudolf Steiner: Kunst und Kunsterkenntnis, GA 271 (1985), ISBN 3-7274-2712-4 English: rsarchive.org German: pdf pdf(2) html mobi epub archive.org