Organ
From AnthroWiki
Organs (from Greek: ὄργανον organon "tool") are, in the realm of the living, specialised parts of the body which, through a characteristic development of their own, emerge from the organism as a whole in order to be able to fulfil very specific tasks. Since, from an anthroposophical point of view, humans and animals not only have a physical body, but also higher, supersensible members of their being (etheric body, astral body; in humans also the I-bearer), all physical organs are also based on supersensible organs, i.e. the heart also has an etheric heart and astral heart, the brain has an etheric brain, etc. In particular, purely supersensory organs, to which organs that cannot be directly physically precisely delimited correspond (although there is also a physical correlate here), such as the so-called lotus flowers or chakras, are also of special significance.
According to the occult view, the human organism is a microcosm that is a reflection of the macrocosm and the organs are under the predominant influence of certain individual planetary spheres. However, this should not be interpreted schematically as if the individual organs were only under the influence of one single planet; rather, from a holistic point of view, all planetary forces always act on each organ in a precisely balanced proportion, but in such a way that certain planetary effects clearly predominate. However, healing effects can often be brought about by invoking other planetary forces in order to restore a disturbed balance.
Seven Organs and Seven Planets
The seven main organs correspond to the seven planets and the seven planetary metalss respectively:
"If we simply draw the systems schematically side by side (drawing page 78 left), then we can already see from this schematic representation how the human inner organisation stands in a certain connection, and we have represented this connection in such a way that we have to see the most important thing in the heart with the associated blood system.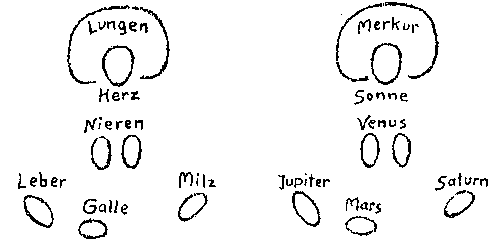 Now I have already pointed out - and we shall see in more detail to what extent such naming is justified - that in occultism the spleen effect is called a Saturnian effect, the liver effect a Jupiter effect and that of the bile a Mars effect. For the same reason, occult knowledge sees in the heart and the associated blood system that which deserves the name "Sun" in the human organism just as much as the Sun does outside within the planetary system. According to the same principle, the occultist calls the lung system "Mercury" and the kidney system "Venus". Thus, in naming these systems of the human organism - even if we do not now go into a justification of these names - we have already indicated something like an inner world system, which we have supplemented by putting ourselves in a position also to consider the connection of the two organ systems which stand in relation to the blood system. Only when we consider the connections in this sense do we encounter in a completeness what we can call the actual human inner world." (Lit.:GA 128, p. 78f)
Literature
Walter Holtzapfel: Im Kraftfeld der Organe: Leber, Lunge, Niere, Herz. Verlag am Goetheanum, Dornach 2004 ISBN 978-3723511008
Vom Wesen der Organe. Spirituelle Hintergründe der Organtransplantation, Flensburger Hefte Nr. 116, Flensburg 2012, S. 129 ff
Johannes W. Rohen: Funktionelle Neuroanatomie: Lehrbuch und Atlas, Schattauer, F.K. Verlag 2001, ISBN 978-3794521289
Johannes W. Rohen, Elke Lütjen-Drecoll: Funktionelle Anatomie des Menschen: Lehrbuch der makroskopischen Anatomie nach funktionellen Gesichtspunkten, Schattauer; Auflage: 11., überarb. u. erw. Aufl. (September 2005), ISBN 978-3794524402
Johannes W. Rohen: Eine funktionelle und spirituelle Anthropologie: unter Einbeziehung der Menschenkunde Rudolf Steiners, 1. Aufl., Verlag Freies Geistesleben, Stuttgart 2009, ISBN 978-3772520983
Johannes W. Rohen, Chihiro Yokochi, Elke Lütjen-Drecoll: Anatomie - Der fotografische Atlas der systematischen und topografischen Anatomie des Menschen, 8. Aufl., Schattauer, 2015, ISBN 978-3-7945-2981-0 (Print) und ISBN 978-3-7945-6804-8 (eBook PDF) [1]
Johannes W. Rohen: Morphologie des menschlichen Organismus, 4. Aufl., Verlag Freies Geistesleben, Stuttgart 2016, ISBN 978-3772519987
Johannes W. Rohen, Elke Lütjen-Drecoll: Funktionelle Embryologie - Die Entwicklung der Funktionssysteme des menschlichen Organismus, 5. Aufl., Schattauer, September 2016, ISBN 978-3-7945-3219-3 (Print) ISBN 978-3-7945-9050-6 (eBook PDF) [2]
Rudolf Steiner: Das Ewige in der Menschenseele. Unsterblichkeit und Freiheit, GA 67 (1992), ISBN 3-7274-0670-4 English: rsarchive.org German: pdf pdf(2) html mobi epub archive.org
Rudolf Steiner: Eine okkulte Physiologie, GA 128 (1991), ISBN 3-7274-1281-X English: rsarchive.org German: pdf pdf(2) html mobi epub archive.org
Rudolf Steiner: Geisteswissenschaft und Medizin, GA 312 (1999), ISBN 3-7274-3120-2 English: rsarchive.org German: pdf pdf(2) html mobi epub archive.org