Seraphim
From AnthroWiki
The Seraphim (Hebrew: שְׂרָפִים śərāfîm, singular שָׂרָף śārāf; Latin: seraphi[m], singular seraph[us]; Greek: σεραφείμ "kindler", "the burning one"[1]), also called Spirits of All-Love, are, as the highest of the spiritual hierarchies, exalted spiritual entities who have the immediate sight of the Godhead and never act out of themselves, but are faithful executors of the divine will. Their Hebrew designation as the burning ones is also commonly used in the Tanakh for serpents (Hebrew: שָׂרָ֔ף sarap).[2]
In Isaiah 6:1–7 the Seraphim are described as fiery, six-winged angelic beings hovering around the Throne of God and continually calling out to each other "Holy, holy, holy". Similarly, the depiction in the Apocalypse of John 4:1–11. From the Trinity the Seraphim receive the goals sought in the development of a planetary systems (Lit.:GA 110, p. 81) and they at the same time provide the link to other developing planetary systems (Lit.:GA 136, p. 93f). Together with the Cherubim and Thrones they form the first hierarchy, whose physical expression is the zodiac. They are usually depicted as six-winged human-like beings, sometimes as if they consisted only of wings at all, from which a human face shines forth, as for example in the dome of the Hagia Sophia in Istanbul. Often the wings have eyes inside and outside (Rev 4:8) and often two wings cover the feet and two the face.
The Nature of the Seraphim
The Seraphim are at the apex of the Hierarchies and their essence embraces the whole world and this also determines the particular nature of their consciousness:
The Seraphim and the Disposition of the Human Senses on Old Saturn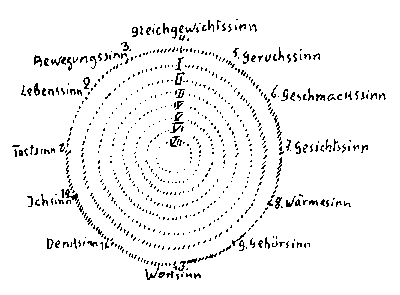 On Old Saturn the physical body of man was predisposed in its finest form as a pure body of warmth. The first germs of the sensory organs were implanted in this warmth body by the Spirits of Personality, who were then passing through their stage of humanity, and these were then made to shine by the Spirits of Fire, the Archangels of today. At that time they had a dream-like image consciousness. Man himself could not make use of these luminous senses at that time, but the Seraphim could reveal themselves through this luminescence of the sense germs.
The Cosmic Mission of the Seraphim
The Revelation of the Seraphim in Nature
The highest spiritual beings, the Cherubim and Seraphim, are imperceptible to such a high degree that, paradoxical as it may seem, this very imperceptibility is in turn perceived. In natural events the seraphim reveal themselves in the lightning and fire of volcanic phenomena.
Rudolf Steiner's presentation in the Esoteric Teachings for the First Class of the School of Spiritual Science is somewhat different. Here it are the Cherubim who show us their tools in the lightnings, while the Seraphim reveal themselves through the heat of the world, but only as an appearance:
Literature
References