Rosicrucian initiation
From AnthroWiki
Rosicrucian initiation was founded in the 15th century by Christian Rosenkreutz after he himself had gone through those initiatory experiences alluded to in Johann Valentin Andreae's Chymical Wedding of Christian Rosenkreutz. The Rosicrucian schooling is the appropriate initiatory path for the consciousness-soul age in which we presently stand. It replaces the medieval Christian initiation, which today is only practicable for a few people, because - as with all earlier initiation paths - it requires a temporary, usually even longer-lasting separation from outer life. The path of the Rosicrucians, on the other hand, can be followed in the midst of quite normal everyday life, whose duties and requirements one fulfils as usual, as it was already outlined by Christian Rosenkreutz:
The anthroposophical path of initiation is directly based on the Rosicrucian initiation.
The foundation of the Rosicrucian path of initiation
Rudolf Steiner reports on the deeper reasons that led to the founding of the Rosicrucian initiation, to which Anthroposophy is also committed:
The further development of the Rosicrucian initiation from the Middle Ages to the present day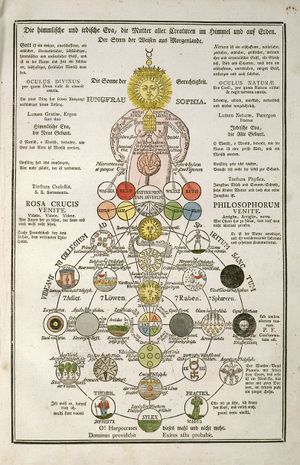 The Rosicrucian path of initiation, as originally given by Christian Rosenkreutz, was directed towards the direct contemplation of the spiritual driving forces of nature as revealed through alchemy and astrologyThe souls of the spiritual disciples were thereby prepared in the incarnations of that time in such a way that a more spiritual path is possible today, as it is also followed in anthroposophy:
Rosicrucian Initiation and Anthroposophy
The Five Basic Rules of the Rosicrucians
Towards the end of the account of the Chymical Wedding, on the seventh day, Christian Rosenkreutz are given five rules which are fundamental to the Rosicrucians:
Rudolf Steiner comments on these five basic rules thus:
The Seven Steps of Rosicrucian Initiation
The Rosicrucian initiatory path comprises seven stages:
On the path of spiritual training, the first thing that happens on conscious entry into the microcosm (Step 5) is the encounter with the lesser Guardian of the Threshold, who opens up to the spiritual disciple the view of his true inner nature, with which only real self-knowledge shines forth and the transformation of his own inner being can begin. The spiritual disciple becomes mature in that he can also meet the greater Guardian of the Threshold some time later when he crosses over into the macrocosm (Step 6).
Literature