Apocalyptic Seals
From AnthroWiki
The Apocalyptic Seals were designed by Miss Clara Rettich according to Rudolf Steiner's sketches for the Congress of the "Federation of European Sections of the Theosophical Society", which took place in Munich from 18 - 21 May 1907. The planetary columns between the seal images were created by Karl Stahl.
The meaning of the seals
According to occult tradition, the seven apocalyptic seals are not directly those seals which are broken at the opening of the book with the seven seals mentioned in Rev 5:1–14. These events up to the appearance of the seven angels with the seven trumpets are depicted only in the third apocalyptic seal. Rather, the apocalyptic seals span a much wider range and represent the imaginatively seen astral archetypes of the entire evolution of humanity on earth in symbolic form.
The capitals of the seven planetary columns, on the other hand, represent the level of the spiritual primordial tones or elementary forces, which can only be grasped through inspiration, in plastic forms. Through their transformation of form from pillar to pillar, they give a vivid picture of the planetary stages of world evolution. Due to the limited possibilities, however, the columns for the congress in Munich could initially only be executed as paintings. It was not until 1908/09 that the motifs of the planetary columns were realised in the model building in Malsch, which was built according to Rudolf Steiner's ideas. They were only created in full size for the First Goetheanum.
When designing the first six seal images, Rudolf Steiner was guided by the seals on the Apocalypse shown by the French occultist Éliphas Lévi (1810-1875) in his work Dogme et rituel de la haute magie.[1] Steiner designed the seventh seal, which establishes the reference to the New Jerusalem, entirely independently.[2] He said about the deeper meaning of the seal images:
Seal I
Seal II
Seal III
Seal IV
Seal V
Seal VI
Seal VII
On the effects of the seal images
Rudolf Steiner's designs
Seven Pillars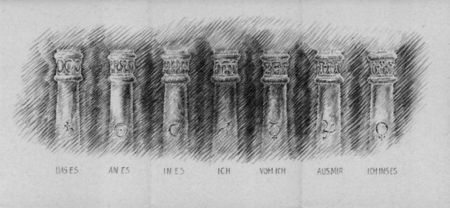 For the English edition of "Occult Seals and Columns", published in 1924, the Danish painter Arild Rosenkrantz (1870-1964) made seal pictures in Arlesheim under Rudolf Steiner's direct guidance, which were initially printed in black and white. Afterwards, in London in the 1930s, he painted 7 circular pastel pictures of the seals, each 72 cm in diameter.
Criticism
The imperfect artistic design of the seal pictures painted by Clara Rettich provoked much criticism, especially from the sculptor Dr Ernst Wagner, whose works were also exhibited at the Congress.[3] Although Steiner was also aware of the inadequacies, a draft letter to Ernst Wagner dated 12 April 1909 states:
Literature
German
References