GA 284
From AnthroWiki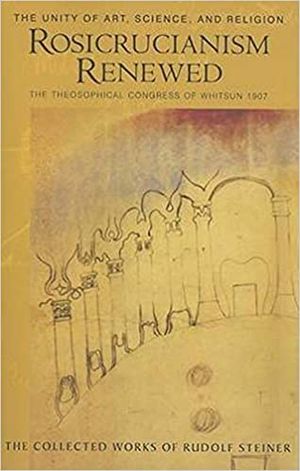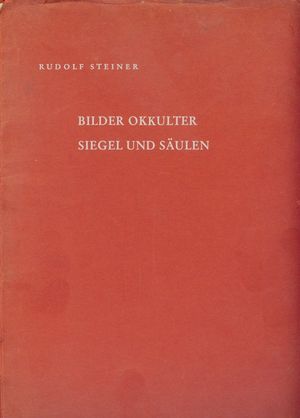 Images of Occult Seals and Pillars. The Munich Congress Whitsun 1907 and Its Consequences
Bilder okkulter Siegel und Säulen. Der Münchner Kongreß Pfingsten 1907 und seine Auswirkungen
Text volume with essays and lectures by Rudolf Steiner from the years 1907, 1909 and 1911. With contributions by Marie Steiner, Mathilde Scholl, Ludwig Kleeberg and E. A. K. Stockmeyer. Numerous facsimile reproductions and illustrations as well as 39 plates.
The linen portfolio comprehensively documents Rudolf Steiner's artistic impulse, which first appeared with the design of the congress room in Munich in 1907 and found its highest expression in the construction of the first Goetheanum in Dornach. Contents of the text volume
I. The Munich Congress 1907:
Announcements and reports on the Congress as well as lectures and speeches on the Congress theme and on the artistic decoration of the Congress Hall / Reports on the Munich Congress by Marie Steiner, Mathilde Scholl and Ludwig Kleeberg /.
II. Effects of the Munich Congress:
The model building in Malsch - The Berlin branch room - The Stuttgart branch house / Illustrations: Programme booklet for the Munich Congress 1907 / Drafts for seal and capital designs by Rudolf Steiner (facsimile) / Illustrations of the rooms in Munich, Malsch and Stuttgart.
Separate plates
Rudolf Steiner's designs for the apocalyptic seals / The seven apocalyptic seals, painted by Clara Rettich (Munich 1907 and Stuttgart 1911) / The seven column paintings, painted by Karl Stahl / The seven planetary seals / Rudolf Steiner's designs for the interior design of the domed rooms in the First Goetheanum / Interior views of the First Goetheanum, drawn by Friedrich Bergmann
Literature
Rudolf Steiner, Christopher Bamford, Marsha Post (Translator): Rosicrucianism Renewed: The Unity of Art, Science & Religion: The Theosophical Congress of Whitsun 1907. CW 284. SteinerBooks 2006. ISBN 978-0880106115
German