Michael (archangel)
From AnthroWiki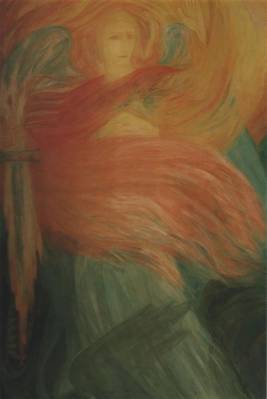 Michael (Hebrew: מיכאל; Arabic: ميكائيل/ميكا "Mika'il/Mikaal"; in English: "Who is like God?") is the fourth of the four leading Archangels and carries the flaming sword. He is the defeater of Satan and weighs the souls on the Day of Judgement. Fire is his element, his colour is red. According to the Catholic view, he stands in the East before the Throne of God. The solar sphere is Michael's spiritual home and to promote the Earth's development in the service of the Christ in such a way that the human I can unfold as richly as possible is his main task. In his capacity as dragon vanquisher, Saint George corresponds to him.
Michael as the Administrator of Cosmic Intelligence
According to Rudolf Steiner, Michael is the administrator of cosmic intelligence, the essential revelation of Divine Thinking:
Rudolf Steiner very vividly described the nature and work of Michael in the Michael Imagination. According to this, Michael's flaming sword is forged from meteoric iron.
Michael Age
The Michael Age in which we stand today, which replaced the previous Gabriel Age (1510 - 1879 AD), began, according to Rudolf Steiner's spiritual research, in November 1879 after the overthrow of the spirits of darkness by the Archangel Michael. Michael thereby conquered the power by which human beings, if they follow him, can transform the materialistic intellectual power into spritual intellectual power. The paths, the "Michael paths", which lead to a contemporary spiritual knowledge, can be followed through anthroposophical spiritual science. The present Michael Age will end around 2300 AD.
Michael as the Face of Christ
Michael's Relationship with Man (Michael's Gaze)
The triumphant Michael-force in Man
The Rise of Michael to the Spirit of the Age
The special significance of the present Michael Age lies in the fact that Michael is ascending from the Archangelic rank to the rank of a so-called "Zeitgeist" (Spirit of the Age) and can thereby stimulate a spiritual deepening of all humanity that transcends all peoples.
Literature
German
Johannes W. Schneider: Michael - und seine Verehrung im Abendland, Rudolf-Geering-Verlag, Goetheanum, Dornach 1981
Aus Michaels Wirken. Eine Legendensammlung von Nora Stein von Baditz mit Betrachtungen von Ita Wegman und einem Beitrag von Herbert Hahn, J. Ch. Mellinger Vlg. Stuttgart, 1988 (1929), ISBN 3880690049
Flensburger Hefte Nr. 26: Michael, Flensburger Hefte Vlg., Flensburg 1989, Inhaltsverzeichnis
D. Johannes Tamayo Salazar: Gotische Hymne auf den Erzengel Michael, aus: Anamesis sive commemoratio Sanctorum hispanorum, Tome III, Lugduni 1655, Übersetzung von Joachim Schultz, Verlag Walter Keller, o.J.
Rudolf Steiner: Anthroposophische Leitsätze. Der Erkenntnisweg der Anthroposophie - Das Michael-Mysterium, GA 26, 1998 (1924/25), ISBN 3-7274-0260-1 English: rsarchive.org German: pdf pdf(2) html mobi epub archive.org
Rudolf Steiner: Vorstufen zum Mysterium von Golgatha , GA 152 (1990), ISBN 3-7274-1520-7 English: rsarchive.org German: pdf pdf(2) html mobi epub archive.org
Rudolf Steiner: Die Sendung Michaels. Die Offenbarung der eigentlichen Geheimnisse des Menschenwesens, Zwölf Vorträge, Dornach 21. November bis 15. Dezember 1919, GA 194, Dornach 1994, als Taschenbuch TB 737 ISBN 3727473703
Rudolf Steiner: Weltsylvester und Neujahrsgedanken, GA 195, Dornach 1986
Rudolf Steiner: Der Jahreskreislauf als Atmungsvorgang der Erde und die vier großen Festeszeiten, GA 223 (1990), ISBN 3-7274-2231-9 English: rsarchive.org German: pdf pdf(2) html mobi epub archive.org
Rudolf Steiner: Die Michael-Imagination. Geistige Meilenzeiger im Jahreslauf, Ein Vortrag, gehalten in Stuttgart am 15. Oktober 1923, Einzelausgabe aus GA 229, Dornach 1980
Rudolf Steiner: Mysterienstätten des Mittelalters, GA 233a (1991), ISBN 3-7274-2335-8 English: rsarchive.org German: pdf pdf(2) html mobi epub archive.org
Rudolf Steiner: Zur Geschichte und aus den Inhalten der erkenntniskultischen Abteilung der Esoterischen Schule von 1904 bis 1914, GA 265 (1987), ISBN 3-7274-2650-0 English: rsarchive.org German: pdf pdf(2) html mobi epub archive.org
Rudolf Steiner: Geisteswissenschaftliche Erläuterungen zu Goethes «Faust», Band I: Faust, der strebende Mensch , GA 272 (1981) English: rsarchive.org German: pdf pdf(2) html mobi epub archive.org
Rudolf Steiner: Vorträge und Kurse über christlich-religiöses Wirken, V, GA 346 (2001), ISBN 3-7274-3460-0 English: rsarchive.org German: pdf pdf(2) html mobi epub archive.org