GA 95
From AnthroWiki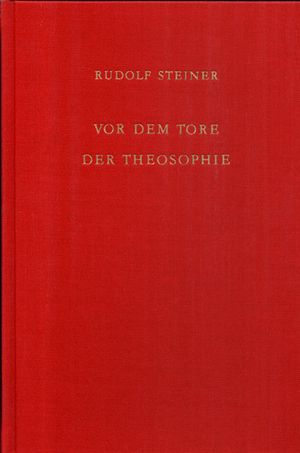 At the Gates of Spiritual Science
Vor dem Tore der Theosophie
Fourteen lectures and two answers to questions (listener's notes), Stuttgart 22 August to 4 September 1906 (Cycle 1).

This early and basic lecture cycle gives an overview of the whole field of spiritual science and describes the different paths of training.
Contents
The three worlds: the physical, the astral and the spiritual / The life of the soul after death / The Devachan / The work of man in the higher worlds between death and new birth / The education of the child / The effects of the law of karma in human life / Good and evil / The origin of conscience / The evolution of the Earth / The development of man up to the Atlantean period / Cultural epochs of the post-Atlantean period / Occult development / The Oriental and Christian training / The Rosicrucian training. The connection between man and the whole Earth. About the Earth's interior. Earthquakes and volcanic eruptions / Answers to questions.
Literatur
German