GA 137
From AnthroWiki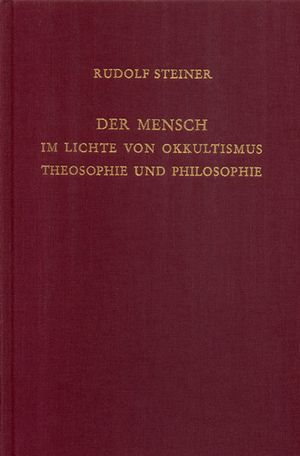 Man in the Light of Occultism, Theosophy and Philosophy
Der Mensch im Lichte von Okkultismus, Theosophie und Philosophie
Ten lectures, Kristiania (Oslo) 2 to 12 June 1912 (Cycle 22), with accompanying notebook entries.
Contents (selection)
Buddha and Christ / Stages of Occult Training in the Ancient Mysteries / Theosophy and Science / Buddha and Pythagoras. Different types of mysticism. Mystics with heart and brain experiences / Mystical experience and occult consciousness / The twofold change of the human form, its division into twelve parts in connection with the twelve zodiacal pictures / The necessary division of the human form into a seven-membered upper, middle and lower man each. Connection with the zodiac. "Three are one and one is three" / Sun, Star and Moon worship in the ancient mysteries / The experience of death. The temptation story in the Gospels / The effect of the lunar, solar and Venusian forces on the threefold man. The nature of true astrology. The connection of the seven inner movements with the planets / Lucifer and Christ on the earlier stages of embodiment of the Earth.
Literature
German