Dante Alighieri
From AnthroWiki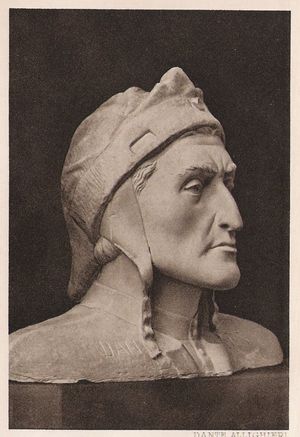 Dante Alighieri (actually Durante degli Alighieri, * in May or June 1265 in Florence; † 14 September 1321 in Ravenna) was an Italian philosopher and poet and creator of the "Divine Comedy".
Dante Alighieri is Italy's most famous poet and one of the most important poets of the European Middle Ages. He lived in the late Middle Ages, which in Italy already marked the transition to the Renaissance, although Dante's world view was still strongly rooted in the Middle Ages (see his work De Monarchia).
Dante is considered the "father" of today's "High" Italian language, which he decisively shaped. His influence on European literature should also be seen in this context.
Life
Dante Alighieri was born in Florence in May or June 1265, the son of the Florentine city nobleman Messer Gherardo Alighiero di Bellincione (Alighiero II) and Monna Bella Gabrielli. According to the concurring statements of Filippo Villanis and Dante's son Jacopo Alighieri, he was baptised with the name Durante (Italian: "the enduring one"), which was then shortened in pronunciation to Dante. His patron saint was Durandus of Liège († 1025). According to Dante's account in the "Paradiso", his Guelfish-minded family derived from his great-great-grandfather Cacciaguida (* 1091), who had participated as a crusader in the Second Crusade (1147-1149).
At the age of 9, Dante first saw Beatrice Portinari (* 1266; † 8 June 1290) who was then just at the beginning of her ninth year, at a spring festival. From the beginning, her angelic, pure figure enchanted him. Nine years later he met her for the second time at a youth festival, where she presented him with a wreath of flowers. She was to become the muse of his later artistic work.
"Nine times already after my birth the heaven of light had returned, according to its own cycle, almost to the same place, when for the first time the glorious Lady of my soul appeared to my eyes, who was called Beatrice by many who did not know how to call her otherwise. She had been in this life so long that since her birth the starry sky had advanced a twelfth of a degree towards the morning, so that she appeared to me towards the beginning of her ninth year, and I beheld her almost at the end of my ninth. And she appeared to me clothed in a garment of glorious, humble, honourable, blood-red colour, girded and adorned as befitted her childish age. At the same moment - so I say according to truth - it happened that the spirit of life, which dwells in the hidden chamber of the heart, began to tremble so violently that it revealed itself terribly in the smallest pulses; and trembling it uttered the words, Ecce deus fortior me; veniens dominabitur mihi (Behold a god stronger than I; he comes and will reign over me)."
Literature
Giovanni Boccaccio: Das Leben Dantes, Übertragen von Edmund Theodor Kauer, Deutsche Buchgemeinschaft, Berlin
René Guénon: L'ésotérisme de Dante, 1925 [1]
Pierre Mandonnet: Dante, le théologien, Paris 1935
Willem Frederik Veltman: Dantes Weltmission, J. Ch. Mellinger Verlag, Stuttgart 1979, ISBN 978-3-88069006-6
Robert L. John: Dante, Springer-Verlag, Wien 1946, ISBN 978-3-211-80023-2
Arthur Schult: Dantes Divina Commedia als Zeugnis der Tempelritter-Esoterik, Turm-Verlag, Bietigheim 1979, ISBN 978-3799901840
Joseph P. Strelka: Dante und die Templergnosis, A. Francke Verlag, Tübingen 2012, ISBN 978-3772084430
Luigi Valli: Il linguaggio segreto di Dante e dei «Fedeli d'Amore», Luni Editrice, Milano 1994, ISBN 88-7984-018-5 online
Alfonso Ricolfi: Studi sui Fedeli d'Amore, Albrighi, Segati & c. 1933
Al-Ma'arri, Gregor Schoeler (Übers.): Paradies und Hölle. Die Jenseitsreise aus dem "Sendschreiben über die Vergebung", Verlag C.H. Beck 2002, ISBN 978-3406484469
Muhyiddin Ibn Arabi, Franz Langmayr (Übers.), Wolfgang Herrmann (Übers.): Reise zum Herrn der Macht: Meine Reise verlief nur in mir selbst, Chalice Verlag 2008, ISBN 978-3905272734
Milena Rampoldi: Vergleich zwischen der Anschauung des Paradieses in Abu l-'Ala al-Ma'arri und Dante Alighieri, epubli GmbH 2014, ISBN 978-3844281422
Winfried Wehle: Dichtung über Dichtung. Dantes 'Vita Nuova': Die Aufhebung des Minnesangs im Epos. Fink, München 1986. PDF
Kurt Leonhard: Dante. Mit Selbstzeugnissen und Bilddokumenten. Rowohlts Monographien, Bd. 167. Rowohlt, Reinbek 1998, ISBN 3-499-50167-8.
Ulrich Prill: Dante. Sammlung Metzler, Bd. 318. Metzler, Stuttgart 1999, ISBN 3-476-10318-8.
Winfried Wehle: Rückkehr nach Eden. Über Dantes Wissenschaft vom Glück in der "Commedia". In: Deutsches Dante-Jahrbuch. Bd. 78 (2003), S. 13–66. PDF
Heinz-Willi Wittschier: Dantes "Divina Commedia". Einführung und Handbuch. Erzählte Transzendenz. Lang, Frankfurt a. M. 2004, ISBN 3-631-38401-7.
Ralf Jeremias: Vernunft und Charisma. Die Begründung der Politischen Theorie bei Dante und Machiavelli – im Blick Max Webers. Hartung-Gorre, Konstanz 2005, ISBN 3-86628-004-1.
Heinz-Willi Wittschier: Dantes "Convivio". Einführung und Handbuch. Erschriebene Immanenz. Lang, Frankfurt a. M. 2009, ISBN 978-3-631-55044-1.
Romano Guardini: Dantes Göttliche Komödie: Ihre philosophischen und religiösen Grundgedanken, Matthias-Grünewald-Verlag, Mainz 1998, ISBN 978-3786721291
Romano Guardini: Der Engel in Dantes Göttlicher Komödie. Dantestudien Band 1, Matthias-Grünewald-Verlag, Mainz 1995, ISBN 978-3786718635
Romano Guardini: Landschaft der Ewigkeit. Dantestudien Band 2, Matthias-Grünewald-Verlag, Mainz 1996, ISBN 978-3786719021
Kurt Flasch: Einladung, Dante zu lesen, FISCHER Taschenbuch, 2015, ISBN 978-3596905966
Richard Lansing (Hrsg.): The Dante Encyclopedia, Taylor & Francis e-Library, 2010, ISBN 0-203-83447-X Master e-book ISBN
Rudolf Steiner: Metamorphosen des Seelenlebens – Pfade der Seelenerlebnisse. Zweiter Teil, GA 59 (1984), ISBN 3-7274-0595-3 English: rsarchive.org German: pdf pdf(2) html mobi epub archive.org
Rudolf Steiner: Die Tempellegende und die Goldene Legende , GA 93 (1991), ISBN 3-7274-0930-4 English: rsarchive.org German: pdf pdf(2) html mobi epub archive.org
Rudolf Steiner: Wege der geistigen Erkenntnis und der Erneuerung künstlerischer Weltanschauung, GA 161 (1980), Dornach, 30. Januar 1915 English: rsarchive.org German: pdf pdf(2) html mobi epub archive.org
Rudolf Steiner: Zeitgeschichtliche Betrachtungen. Das Karma der Unwahrhaftigkeit – Erster Teil, GA 173 (1978), ISBN 3-7274-1730-7 English: rsarchive.org German: pdf pdf(2) html mobi epub archive.org
Rudolf Steiner: Die okkulte Bewegung im neunzehnten Jahrhundert und ihre Beziehung zur Weltkultur, GA 254 (1986), ISBN 3-7274-2540-7 English: rsarchive.org German: pdf pdf(2) html mobi epub archive.org